15th Science Festival with 2017 theme 'Time' took place in 23 Croatian cities and towns from the April 24th-29th.
As a part of sort lectures presented by scientists from Institute for Adriatic Crops and Karst Reclamation entitled 'Everything in its time – even plants knows it', Project associate Dr. Maja Jukić Špika, held a presentation "Searching for mom and dad" on April 27 in Marko Marulić city library in Split.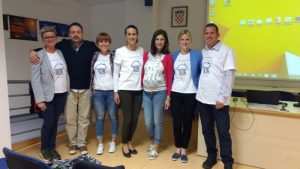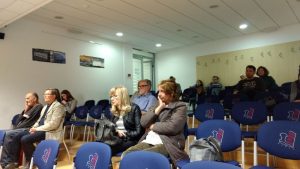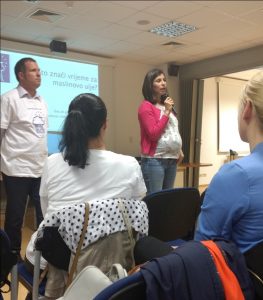 Throughout the lecture, the listeners met the basic research methods for proving parenthood, and get the answer on the question 'What is the connection between mom, dad and surname with soil, olives and oil?'. Group of scientists trying to find that link between soil, leaf and olive oil are presented as well as all the questions that occur through the time …. in revealing the Role of soil properties and environmental conditions in elemental and isotopic composition of the olive…. basis for oil geographic traceability. Presented were the aims, objectives and the significance of the spec-T-oil Project.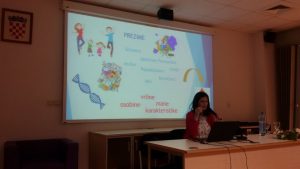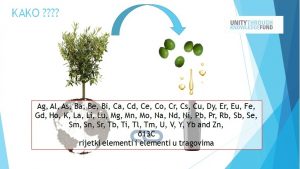 festival znanosti s ovogodišnjom temom "Vrijeme", održao se od 24. do 29. travanja 2017. godine u 23 grada diljem Hrvatske.
U nizu kratkih predavanja djelatnika Instituta za jadranske kulture i melioraciju krša pod zajedničkom temom "Sve u svoje vrime – i biljke to znaju", suradnica dr. sc. Maja Jukić Špika, 27. travnja 2017. u prostorima Gradske knjižnice Marka Marulića u Splitu, održala je predavanje na temu "U potrazi za mamom i tatom"
Kroz prezentaciju, slušatelje je provela kroz metode istraživanja i putovanje kojim se dokazuje roditeljstvo, ali i dala odgovor na pitanje 'Kakve veze imaju mama i tata, prezime i podrijetlo sa maslinom, tlom i uljem?' Upoznala je slušatelje sa grupom znanstvenka koji nastoje pronaći tu vezu između tla, lista i maslinova ulja, kao i svim pitanjima koje se kroz vrijeme stvaraju   …. u otkivanju uloge svojstava tla i okolišnih uvjeta u elementarnom i izotopnom sastavu masline —– temelj za zemljopisnu sljedivost maslinova ulja. Prezentacijom su ujedno i predstavljeni ciljevi i značaji projekta spec-T-oil.